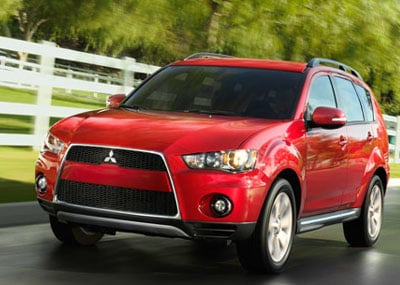 The 2013 Mitsubishi Outlander has sporty handling and a solid power train, but reviewers say it falls short of other crossovers with shoddy interior material quality and an uncomfortable third row.


The Outlander's drive train is one of its few bright spots, according to reviewers. While critics call the four-cylinder model adequately-powered, they prefer the available V6, which is more powerful and say feels smoother. The four-cylinder engine is paired to a continuously variable transmission (CVT), while the V6 is matched to a six-speed automatic transmission. Test drivers say the available six-speed automatic transmission provides smooth shifts. In terms of handling, critics feel that the Outlander is one of the sportier crossovers on the market, but can't quite match the driving dynamics of class leaders. Its ride is a tad firmer than most in the class, but it avoids being harsh.
The Outlander gets an EPA-estimated 22/28 mpg city/highway with the four-cylinder engine, which is good for the class.
The 2013 Mitsubishi Outlander seats up to seven in all trims except the base model, which seats five. Reviewers are thoroughly disappointed with the Outlander's interior quality. They agree that the Outlander's cabin is cheaply assembled and awash in flimsy plastics. Critics also dislike the optional navigation system's cheesy, outdated graphics.
First- and second-row seats provide good comfort and plenty of legroom, according to test drivers. The automotive press finds the available third-row seats thinly padded and not even comfortable for children. Despite being cheap-looking, test drivers think the audio and climate controls are intuitive and easy to read. Also, reviewers appreciate the tail/liftgate combo, which they say makes the cargo area easier to access.